Mission to MaaS – The hitchhiker's guide to the future of digital mobility market places
For more than a decade, public transport operators around the world have been trying to reach for the stars to improve our multi- and intermodal travel experience.
However, none of the public transport operators, agencies and technology providers have landed on MaaS yet. Reasons for this are as varied as any failed space mission. One would think that the development of multi- and intermodal mobility solutions should not be rocket science. Nevertheless, it seems to be.
The paradox of choice in a sky full of stars
To solve the major challenges of CO2 emission, noise pollution, and traffic congestion cities face, sustainable mobility solutions are required to divert commuters and travellers to environmentally friendly travel solutions. To make travellers aware of these travel alternatives, they need to be offered, promoted, and possibly bundled. Therefore, it sounds reasonable to integrate all the travel alternatives into one mobility app, allowing users to easily book them with one account and to receive their monthly invoice in addition to many other functionalities directly from the platform provider.
Only, potential users want to be informed, they want to be guided and taken by the hand to find the most suitable travel plan within their preferred mobility forms. Potential users do not want to be overwhelmed with travel options they never use or app functionalities they have never thought of. Consequently, it is essential to think of the users and their requirements as the centre of the solar system your MaaS platform orbits.
Such user requirements vary depending on the local environment and the reasons for travel respectively, possibly presenting conflicting interests. Consequently, one needs to internalize that it cannot be one mobility app that meets all the user needs, that addresses multimodal and intermodal transport, and that covers every geographical area. Rather, several mobility apps need to be established as one product family, while they all build on the same MaaS platform.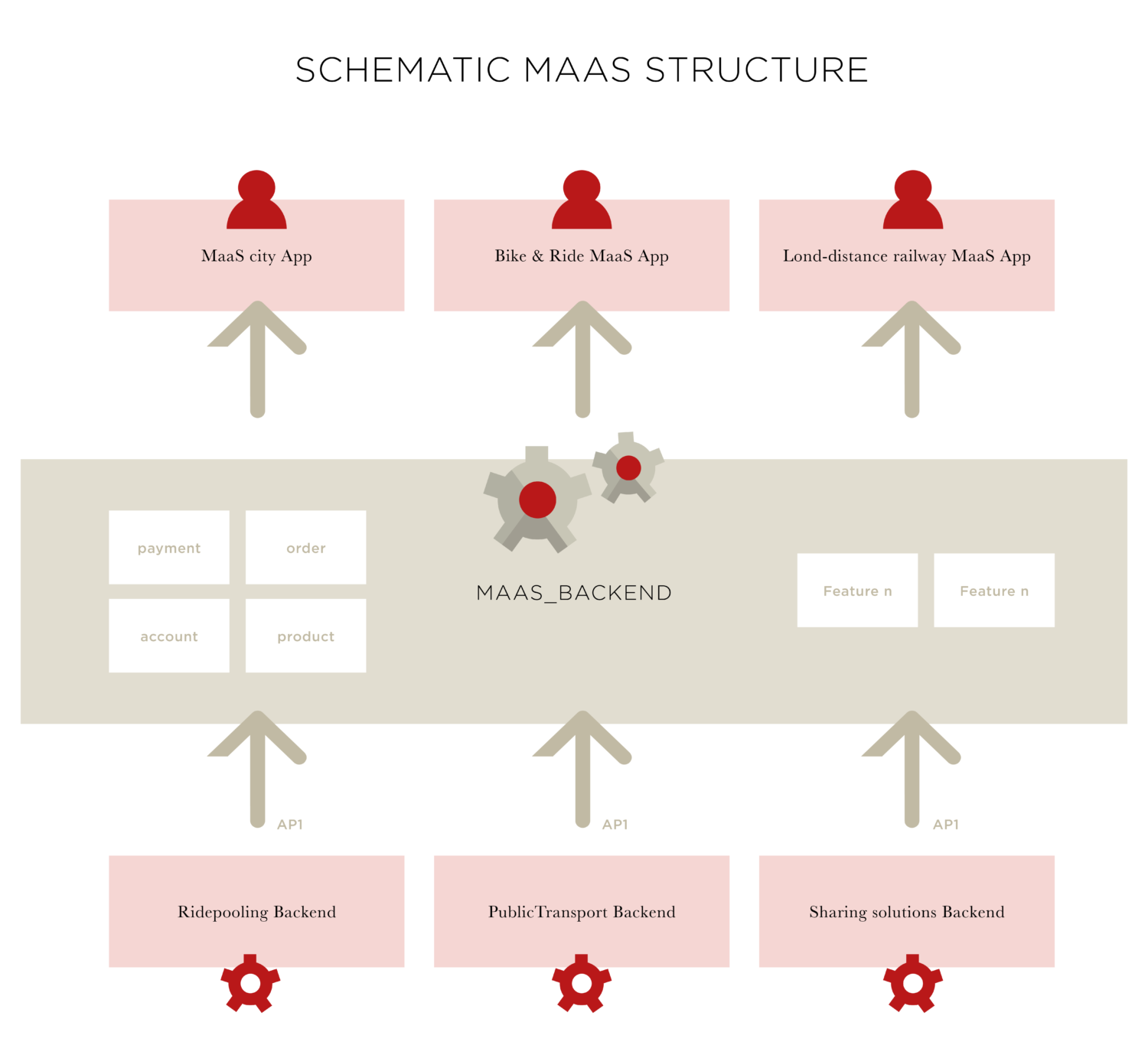 An urban MaaS revives the user need for multimodality in one place. Users want to be informed about the available transport modes in the urban area and the routing. They want to compare the search results and the alternatives shown with their preferred mobility form. Hence, transparency on the travel options is essential for a successful urban MaaS. To facilitate transparency, the different means of transport and the mobility service providers (MSPs) must be aggregated in the MaaS platform, following the principle of quantity of MSPs over their depths of integration in the MaaS platform.
MSPs encompass any means of transport, ranging from public transport and shared mobility to ride hailing and long-distance services. Complete aggregation can be achieved with increments, thus, integrating only certain transport modes at first. The more transport modes aggregated in the mobility platform, the more complex the offering will be.
An intercity MaaS can only be successful when the aspect of seamlessness is stressed in the solution design. Since it takes up the user need for inter-modality between several places, the MSPs need to be deeply integrated. Only with deep integration a seamless booking of the travel plan and payment of the mobility services used can be facilitated through the MaaS platform. Consequently, an intercity MaaS concentrates on the depth of technical integration of individual MSPs rather than the aggregation of such.
Complete technical integration is being reached, when payment services are being offered by the platform providers themselves, issuing the regular invoice to the users for their mobility services used. From a customer perspective, all services are offered from one provider. On the way to complete technical integration, further increments can be identified, starting with information only, leading to the integration of booking either via deep link or API, eventually reaching the integration of payment services, either with separate accounts or a single account.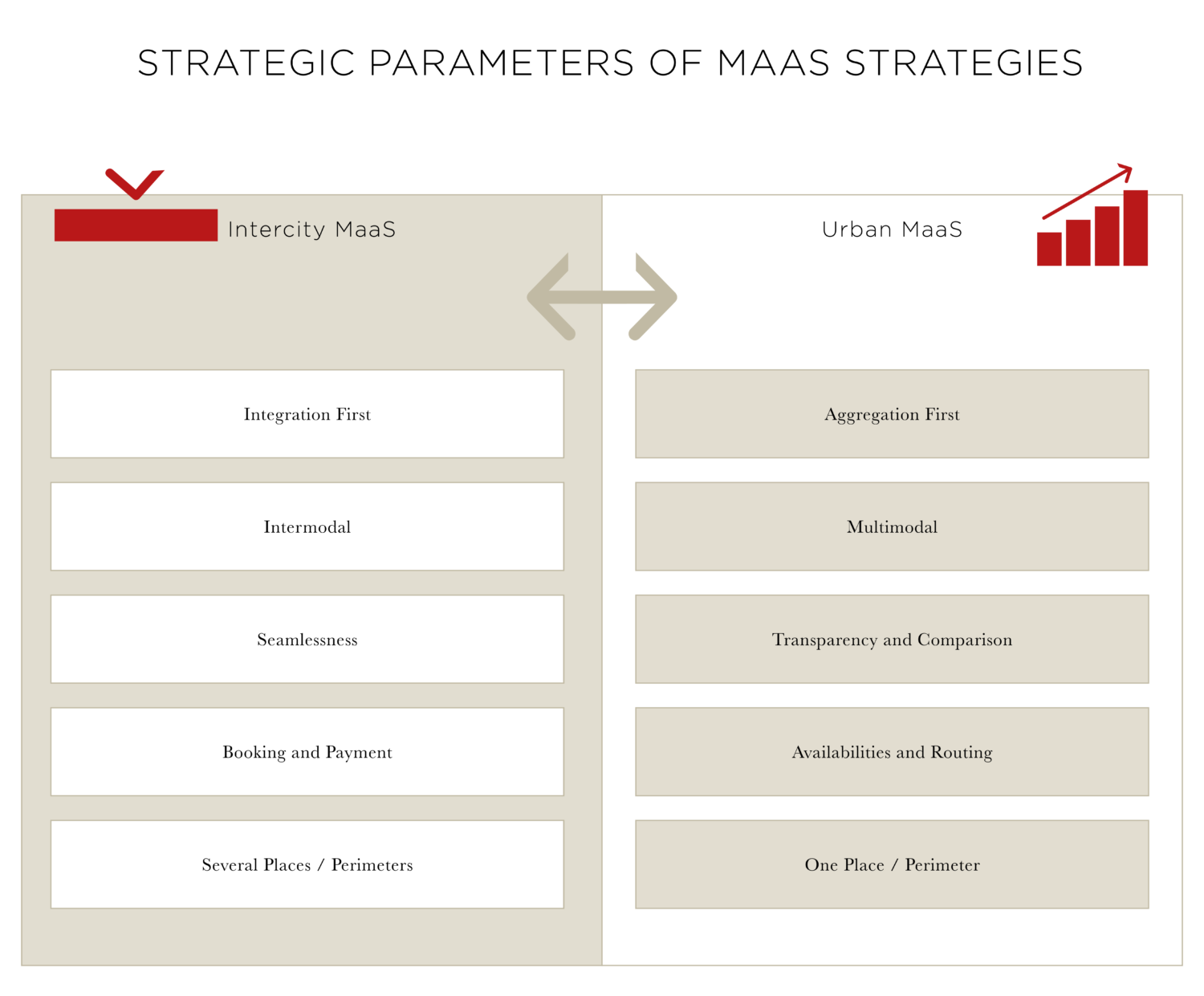 For a successful mission to MaaS, it is essential to learn from the past, internalize the experiences other platform providers have made and take the success factors derived from past platform developments and app offerings:
Set a clear focus on either aggregation or integration
Consider MaaS platforms as an integrated system architecture
Define a precise product, one app for one target group or one use case
Develop an ecosystem of mobility apps
Ensure the user experience with any decision on integration
Identify the requirements for a mobility app based on the geographical area
Determine a viable business case for integrating mobility services in the platform
By incorporating these principles, public transport operators, agencies and technology providers will finally be able to land on MaaS, and at last, the stars will be within one's reach.